Franco Canta and Truffles: nose and passion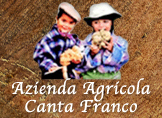 Franco Canta started to look for truffles for passion, in the woods of Langhe. Today his company exports this precious tuber throughout the world, from Europe to Asia.
This is a complex art, which above all needs love and determination. The truffle comes from a microbe, with a very thin microscopic roots. Where the vegatation is interlaced and dense, it can create a synergy between different plants, like hazelnut, willow and oak. It is there, on those roots, that Franco Canta and his generous dog know what to look for. Infallible nose of both man and dog, unmistakable and strong the fragrance of the truffle.
In October the tuber can appear near the surface, but in November it can also be found at a depth of 15-20 centimetres underground. To extract it without any damage it is necessary to dig with delicacy and taking the right precautions.
The dog is an indispensible part, and to train it properly it can take between five and six years. The result, in the end, the man and his eternal friend form a perfect close-knit undisputed couple.
Besides being an aristocratic presence on the table, the truffle is also a rare and appreciated present.
Adequately protected and packed, it can be sent to any country, through express carriers. Today Franco exports in all the European countries, including Russia, but also in Asia: Japan, China and Singapore.
This is how from an individuale passion an important company can be created.
–
Azienda Agricola Canta Franco
Frazione San Giulio, 115 A
14015 San Damiano d'Asti
Telefono: +39.0141.977242
Fax: +39.0141.982003
E-mail: info@cantafranco.it
www.cantafranco.it
Post date:
8 October 2008
Topics: